It took me 10 years to perfect this web design formula for fishing guides.
It was born out of necessity. I started my guide business and I was the sole breadwinner in my household and needed to succeed — and I needed to do it fast. I became very successful early on. Through countless hours and late nights of adjusting and manipulating my website each night — I started running upwards of 300 charters a year. And, then other captains came calling to ask me to build their websites for them. I needed to perfect the formula for the perfect website for fishing charter captains.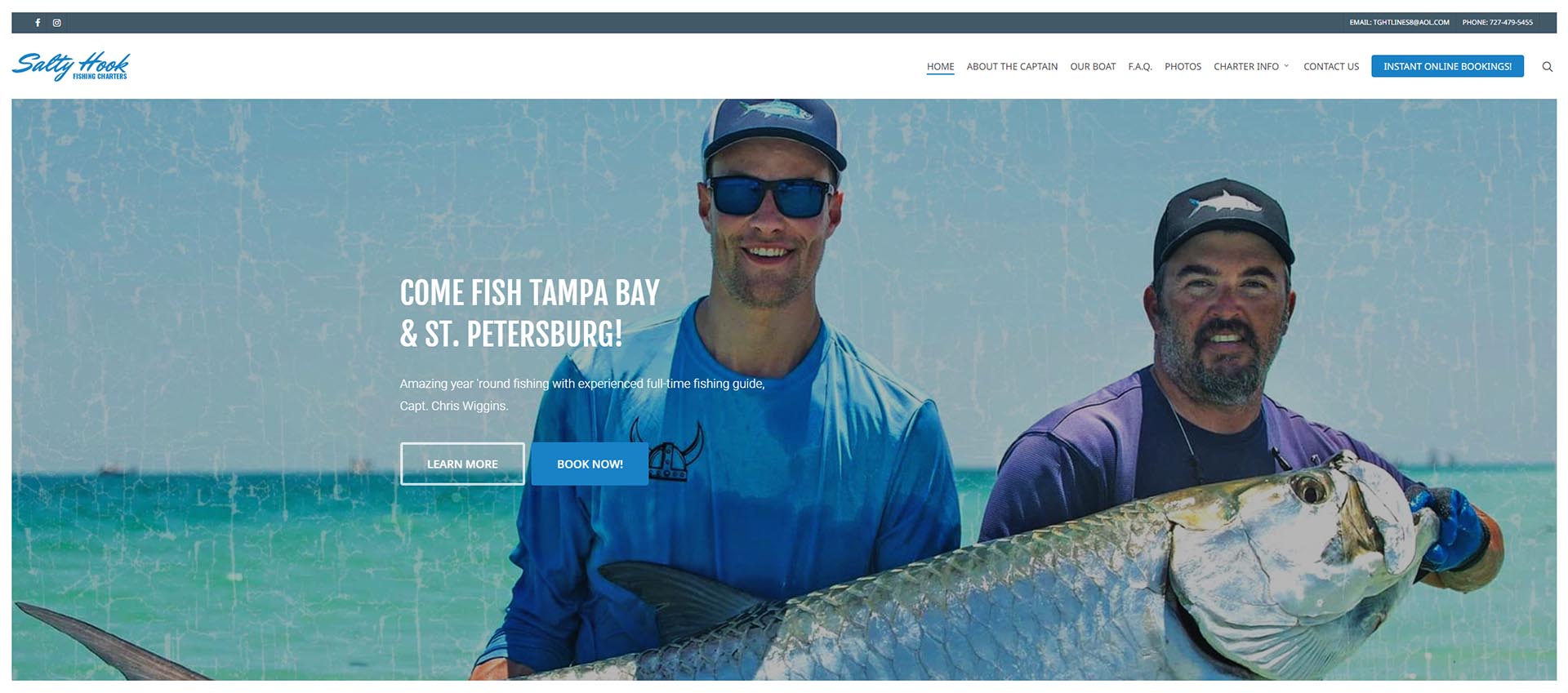 I've now designed and built websites for countless captains all over the United States. As far as I know, I have a 100% satisfaction rate. If anybody hasn't been satisfied in the past 15 years, they haven't told me about it. Instead… I know several guides who have grown to the point of buying more boats, hiring more captains, and booking more charters than ever before.
If you want to know the secrets I came up with that made me and these other guides so successful… keep reading.
You have to identify your ideal charter customer and speak their language.
Any business needs to identify its ideal clients in order to be successful. The same is true for a fishing guide service. You have to know who you want to take fishing and what their needs are. Are they a family that just wants to have a good time on the water? Are they a group of people that wants to fill a cooler? Or are they a businessperson that is trying to win over a new client? By identifying your ideal clients and understanding their pain points, you can tailor your fishing trips and marketing messages to attract them. And by speaking directly to their needs, you'll be more likely to convert them into paying customers. So, if you're looking to build a successful fishing guide business, make sure you start by identifying your ideal clients and understanding their needs.
For me, I didn't want to take people fishing that wanted to catch a ton of fish and feed the whole neighborhood when they got home. I also didn't want to take the overly serious angler that wanted to have a trophy day every time we went fishing. I also didn't want the person who was trying to imporess a business client by going fishing with me so that they could close a big deal.
I wanted to take the people who were visiting Florida and were just happy to be on a boat, see the sights, and learn about the area — catching fish was a bonus for them. So, I crafted the language on my website to mean their expectations.
I'm a family guy, fun to be with, happy, non-smoker
I have a nice clean boat for you to enjoy
Our scenery is amazing
Our history is awesome
Here are pics of my kids catching fish
If I were to target corporate clients my language would have been completely different.
Identify who you want to take fishing and speak their language.
You have to rank well on Google
Google is the largest and most popular search engine in the world, so it's no surprise that businesses want to rank highly on Google's results pages. After all, if people can't find you when they search for relevant keywords, they won't even know to be interested in your products or services.
Google ranks websites based on a number of factors including the quality and quantity of backlinks, the relevance of keywords, and the quality of content. While there is no surefire way to guarantee a high ranking, there are a number of steps that can be taken to improve your chances. Creating well-written, keyword-rich content is a good start. Promoting your website through social media and other online channels can also help to attract attention and links from other websites. Finally, Google's algorithms are constantly changing, so it's important to stay up-to-date on the latest trends in SEO. By following these best practices, you can give your website the best possible chance of ranking well on Google.
This is an ever-moving target and you have to always be aiming for it. Your day isn't done when you get off the water and wash the boat, get to work on your website every day. Write, write, write… every day.
The Homepage Website Flow That Crushes It
Header/Menu
Hero
Services
Intro
Testimonials
Photos
Fishing Reports
Call to Action
Footer
We'll make an entire article based on this list soon. But, if you use this formula, you'll do well with the traffic you get.
Header/Menu
When you're designing a fishing guide website, one of the most important elements is the menu. It should be clean and easy to navigate, with a strong visual hierarchy that clearly indicates the different sections of the site. The logo should be prominently featured, and the phone number and email address should be easy to find in the header. By taking care to create a well-designed menu, you'll make it much easier for visitors to find their way around your site and quickly locate the information they need.
Hero Section
As a fishing guide, your website's hero section is critical in grabbing the attention of your potential clients. Make sure to speak to their number one pain point here – whether it's catching a lot of fish, enjoying the sites, or just being with a fun captain. By addressing their needs head-on, you'll ensure that you have their attention from the get-go. Include a strong call-to-action as well, so they know exactly what to do next (book a trip with you!). If you can nail the hero section on your fishing guide website, you'll be well on your way to reel in some new business.
List Your top 3 Charters That You Offer (or more)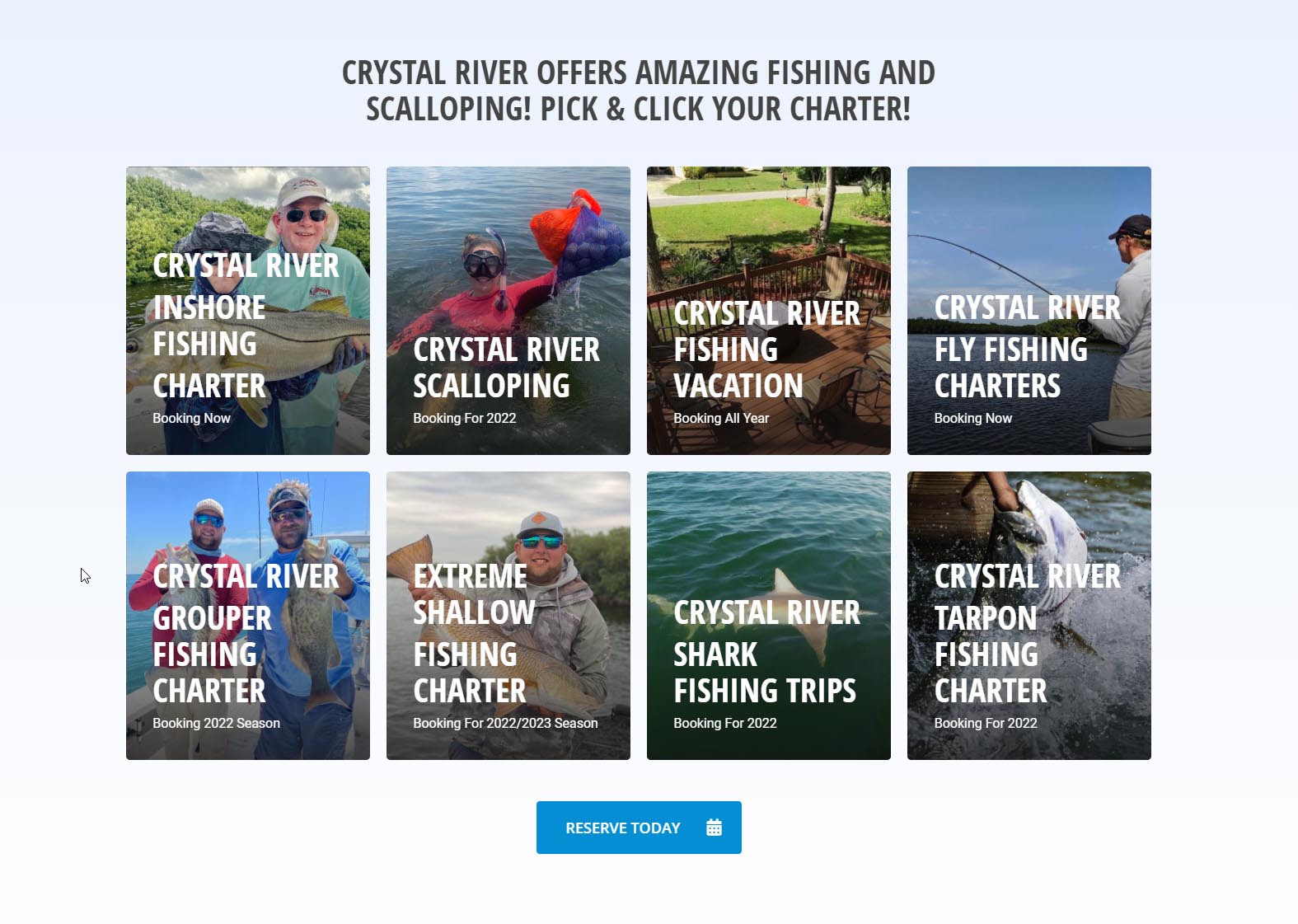 In this section, pick the top charter types you would like to promote. Maybe you do inshore, nearshore, and tarpon. Or, maybe you do bass, striper, and walleye. Whatever they are, list them in this section and create a page for each one that those topics link to. Keep in mind about who your ideal client is. If your ideal client doesn't want to go shark fishing, don't list shark fishing here. You can still offer shark fishing and you can still have a page for it, but just don't list it here in this section of the home page.
Say a little bit about you.
You grabbed them with the Hero, you showed them that you offer what they want to do… now that they like what you have to say, they are interested in knowing a little bit about you. So, tell give them some info. Tell them where you are from, how long you have been guiding, what you love to do… etc. Don't forget to include a picture of you in this section. It will give your clients an idea of who they are spending the day with and also help them recognize you when they get to the dock.
What do they say?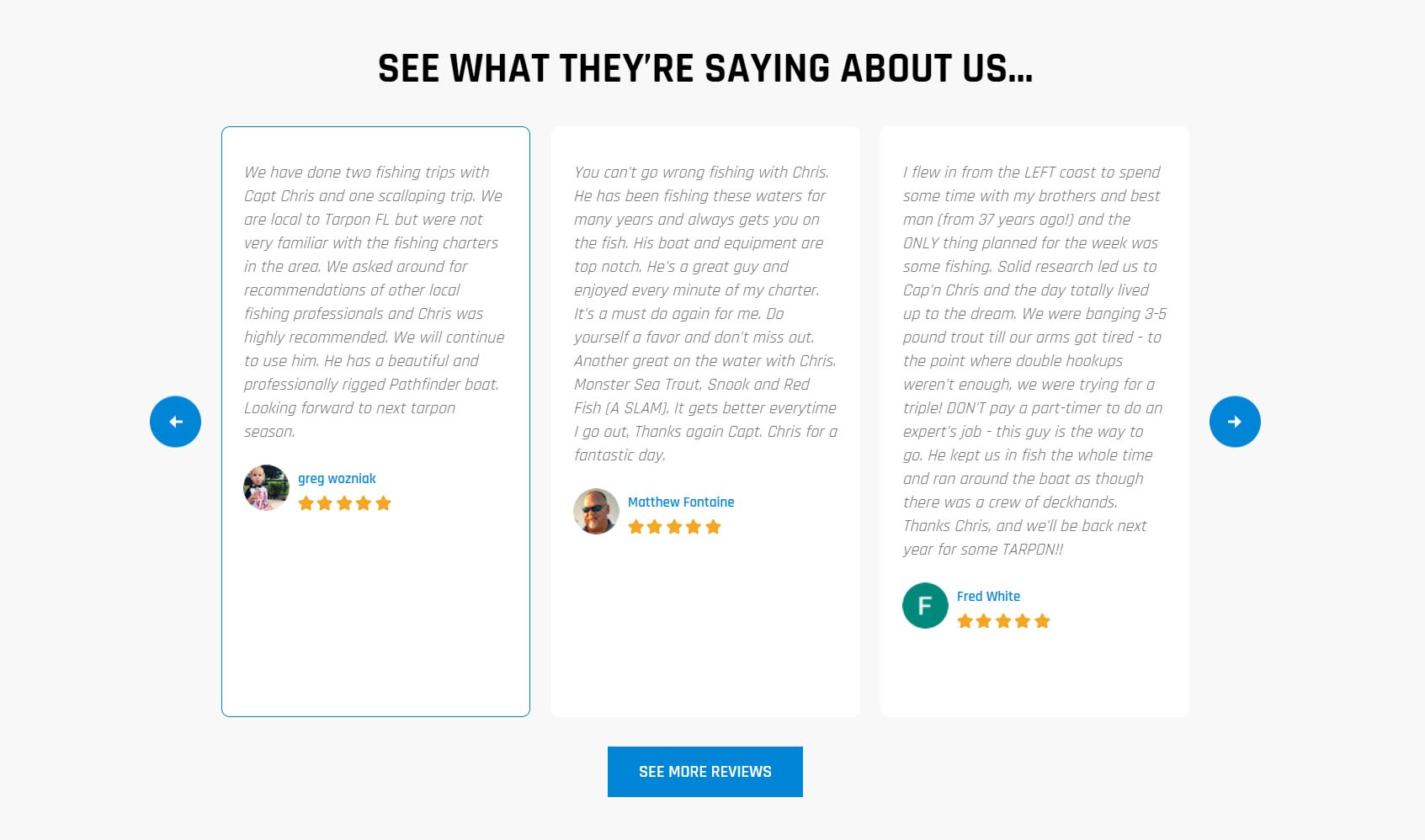 Social proof is a huge factor in attracting new charter clients. After all, potential customers want to know that they can expect a great experience when they book a trip with you. One of the best ways to provide social proof is through testimonials from previous clients. If you don't have any testimonials on hand, reach out to your previous clients and ask if they would be willing to write one for you. You can also ask for permission to write a testimonial on their behalf. Either way, including testimonials on your website is a great way to show potential customers that you're the captain they're looking for.
Photos
Make sure to have a photos section. Use only pictures you are proud of. Don't display pictures of small fish or pictures of people who are frowning. Make sure everyone looks happy. Use a good variety of fish pictures that clearly show what types of fish you target.
Fishing Reports
Make sure to include fishing reports as often as you can. I would suggest a fishing report after every single fishing charter for best results. But, I know you guys won't do that (I did it for 10 years and it worked for me though).
Focus on details about the people you took fishing and the fish you caught. Don't focus so much on where, how, or why you caught the fish. Most of your clients won't even understand the details. But, they will love the stories about people and the catches. So, focus on the people and the fish.
Call to Action — what action do you want your potential client to take?
A call to action (CTA) is an essential element of any website. It is the message that you want your audience to take away from your communications, and it should be clear, concise, and easy to understand. When crafting a CTA, you need to first determine what action you want your audience to take.
Do you want them to book a fishing charter? Do you want them to call you? Do you want them to email you? Once you have determined the desired action, you can craft a CTA that will encourage your audience to take that action. Keep in mind that CTAs should be short and to the point – avoid using complex language or jargon that could confuse your audience. By taking the time to craft an effective CTA, you can ensure that your website is driving the results that you want.
The Footer
The footer should be the recap of just about everything. You should repeat your logo, have your contact info, show the navigation for your website… etc. And, then also I would suggest listing your sponsors and their logos and links here so that they are visible on every page.
Go out there and make it happen.
Designing a good fishing guide website takes work. You have to continue working on it regularly in order to keep it successful. But if you follow the design formula we just told you about, you will eventually succeed.
By following these tips, you can design a fishing guide website that will help you get more clients and grow your business. So what are you waiting for? Get started today!
If you need help with any of it, or all of it, just shoot us a message or give us a call! I mean… this is what we do.
813-300-2147
info@steamowrks.io